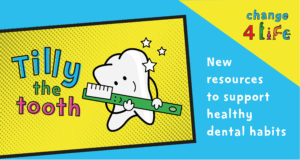 New Partner Resources for Schools 
The Change4Life and Rise Above for Schools programmes have been off to a busy start this academic year, with a number of exciting new resources that you can share with your local schools:
for the first time, Change4Life has created dental lesson plans to support primary school teachers in educating their pupils about how to keep their teeth healthy
in recent weeks, Our Healthy Year calendar wallcharts have been sent to Reception and Year 6 classes in England. The wallcharts will get pupils eating well and moving more in the year in which they participate in the National Child Measurement Programme
a new Rise Above for Schools resource has been created to help prepare secondary school students for puberty and support teachers in starting conversations about this sensitive subject.
Coming soon:
Rise Above for Schools teaching resources to help students cope with change
A suite of new Change4Life resources launching in January to help primary school teachers, pupils and their families learn more about nutrition and eating well.
NEW Change 4 Life, Keeping our Teeth Healthy
Please see below dental resources for schools developed by C4L with input from dental public health are now live on the C4L campaign resource centre School Zone. The new dental lesson plans are the first in a series of Change4Life school resources that they will be releasing this academic year to help pupils and their families learn about healthier eating habits.
https://campaignresources.phe.gov.uk/schools/resources/keeping-our-teeth-healthy-ks1-lesson-plan
https://campaignresources.phe.gov.uk/schools/resources/keeping-our-teeth-healthy-ks2-lesson-plan
If you would like to tweet about the resources there's a couple of sample tweets from C4L below to choose from and graphic attached.
Every 10 minutes, a child in England has a rotten tooth removed. Pupils can learn about healthy dental habits with new resources from @Change4Life
Did you know that on average children miss three days of school as a result of dental issues? Help pupils make informed choices about keeping their teeth healthy with @Change4Life's new dental resources